Whenever I read a blog post written in a melancholy tone, by someone who is wearing their heart on their sleeve without telling you exactly what that is - I always wonder.
What's the story?
The blogosphere is a stange place. Our faces are pages and our stories are the ones we *choose* to tell. It's difficult to read about sadness and not want to hear the backstory too. Our hearts ask: "Why?"
Earlier this month, I gave Princess Fur her spring haircut. In the winter, I keep her body fur long for warmth, but in the more temperate months, I groom her like the almost-show-dog she is. She always looks gorgeous and turns heads. She was a half-inch too tall to show, but she'll always be my champion!
Clipping the winter fur from her body is like shearing a sheep. It's fun! When I flipped her over to shave the fur from her underside, something didn't look right. There was a lump. On her lower ribcage. About the size of a golfball. As I held her in my arms, open and tender with her little exposed belly beaming up at me, heavy tears dripped down on the dog, my arm, the clippers.
I was so afraid. Little dogs are not supposed to have big lumps. Big lumps spell trouble. I was in the last days of the Big Busy before spring break, but as soon as I could, I made an appointment with the vet.
And then I waited. And waited.
This story has a happy ending: The vet did his examination. The lump is benign and harmless (and it's still there - now commonplace, instead of terrifying). The Princess received a clean bill of health. We practicallly skipped home, stopping through as many dog parks as we could find on the way.
But I haven't forgotten that terror of Not Knowing, so I've been spending more time cuddling, less time surfing. I've been blogging less, personal journaling more. I've been sharing my stories privately with friends via email and over lunch.
I'm still practising, as always. But the ins and outs of my yoga practice seem less important these days. I just do the practice and let it go. I'm less attached, but the focus of my attachment has just shifted.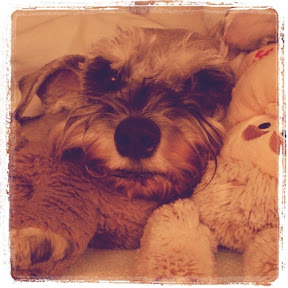 - Posted using BlogPress from my iPad