I woke early this morning but my LH was in full force, so instead of practising I cleaned out the bottom of my closet.
This is part of my continuing decluttering efforts. Clearing the closet has been a surprisingly emotional task, so I've been moving through it incrementally, shedding items in a trickle instead of a diluge. Seems like every few days, I accumulate a bag to take down to the clothing donation bin. It's finally beginning to come together!
There's an online group dedicated to
wearing only 33 items of clothing for 3 months
in order to reduce and maximise a wardrobe. I'm intrigued by the concept, though I'm not willing to go that far (and I wonder if it's even possible here in Canada, where layering is a necessity). Really, most of us only wear a tiny fraction of the clothing we own.
I don't tend to hoard clothing for three simple reasons: 1) I hate shopping 2) I have simple tastes which favour comfort 3) My main wardrobe consists of yoga pants and tops. Makes things easy!
I also tend to buy quality and keep stuff around *forever*, often for TOO long. My current winter gear is a great example. My winter coat is 5 years old and up for replacement (very soon! stay tuned!).
My winter boots have been with me since the last century. They're in such horrible shape that this winter, I started wearing another pair of boots, not intended for snow, which are already 6 years old. Enough is enough! On Saturday, I reluctantly treked to the mall and spent two hours trudging from shoe store to shoe store. But I found a wonderful half-price deal. I love my new boots!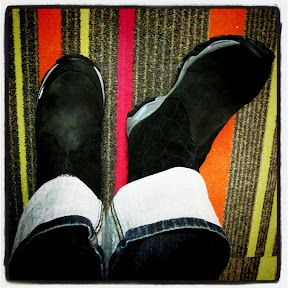 The rest of my weekend was spent bogged down in tax preparation. I've made a promise to myself not to fall behind in my accounting this year like I did last. In that spirit, as soon as I finished with 2010, I moved right on to January 2011. Done!
When I completed my data entry tasks, Princess Fur and I took the new boots out for a walk in the park. The natural rink has been flooded for about a week now (I haven't yet been out to skate on it). The neighbourhood winter festival was in full swing as we passed by: Barbeque, neighbours and an obligatory hockey game.
Yoga practice was Restorative today (I finally unrolled my mat just before lunch). I followed the during-menstrual sequence from Bobby Clennell's women's yoga book. Tomorrow, I'm hoping for something a bit more active.
- Posted using BlogPress from my iPad