The Yoga Conference was this past weekend. I'd love to have a little chat with the genuis who thought that a FULL MOON weekend would be a great time to bring together 800+ yoga practitioners, pack them into small, irregularly-shaped rooms for 6-8 hours a day, while doing intensive yoga practices that many of them are unaccustomed to.
People were BATSHIT CRAZY! The teachers I studied with were warm and enthusiastic and I thoroughly enjoyed the sessions I attended. But by the end of the weekend, I was ready to *strangle* a few of my co-participants. After the last workshop on Sunday night, I couldn't get out of that convention centre fast enough!
The weather didn't help. On Saturday morning, the cold driving rain was such a misery that I ditched the early afternoon sessions in favour of a hot bath at home. On Sunday, I biked to the convention centre in SNOW flurries because the subway wasn't open.
In the past, I've sourced a free ticket to the Yoga Show and attended free classes in the 'yoga garden'. These classes are brief - 30 minutes - but many Yoga Conference workshop presenters are represented. This was a good strategy for 'shopping' around for teachers I liked. This year, I ponied up the money to attend a few workshops and a 2-hour class at the conference.
The class was with Vinyasa Yoga's Goddess of Awesome Hair,
Seane Corn
. 'Shakti Flow' was billed as an Intermediate/Advanced class and I give huge props to Seane for honouring that. It was a fast-paced, challenging class and I really enjoyed it. I found Seane's teaching clear and intuitive. Sometimes, 'conference teachers' can come across as self-absorbed assholes. Not Seane. She had great energy: open-hearted, humble and funny. I got the impression she would be a pleasure to chat with over coffee. Bonus: She taught the vinyasa exit out of Vasisthasana so effectively that I was able to do it practically on my first try. Her demo of it was beautiful!
The workshops I attended were all with
Natasha Rizopolous
. When I sampled her sessions at the 'yoga garden' over past years, I struck by how well-organised and knowledgeable she was. I *always* came away learning something new about teaching. She was able to present a coherent and useful 'mini-class' in 30 minutes which is really no small feat in that chaotic venue. I was also touched by her generosity - she spent significant time chatting with me last year about some issues that had come up in my teaching and her advice was very helpful.
I signed up for three of her workshops, specifically geared toward teachers. Though the workshops were very basic in the level of the asana covered, the information was invaluable for my teaching (particularly the workshop on sequencing). Because our teaching styles are similar, Natasha's cueing and sequencing ideas deeply resonated with me. She uses language masterfully! I scribbled many of her cues verbatim into my notebook because I absolutely love the way she puts words together. Her cues are clear, simple and effective.
She's also an incredibly lovely person, as energetic and genuine in her last workshop as she was in her first. Plus, she quoted the yoga sutras (in Sanskrit), which is like the awesome icing on the awesome cake! ;-)
I also did quite a bit of shopping at the show this year, mostly for clothing, which I desperately needed. My favourite find was
silk wrap-around skirts
made in India from old saris. Perfect to wear over yoga crops, which I pretty much live in on a day-to-day basis, but cute enough to wear out on the town too. I've long been a fan of
Halfmoon's Bambusa Stoles
. I wear the black one I purchased last year almost daily. I bought two more in pretty colours this year.
After three years of casting a covetous eye as I passed the
Health Bridges
booth, I finally broke down and bought myself a set. It was a HUGE purchase for me. I normally don't spring for stuff like this. These 'backbending bridges' target different areas of the back. They're beautifully constructed out of Canadian hardwood and came highly recommended. So far, I'm *loving* them.
The second morning I tried them (I'm using Bridge #1 for 10 minutes and Bridge #2 for 5 minutes), I sat for meditation afterward and my entire spine was *tingling*. After two days of use, my back is achy in a wonderfully good way. Bridge #1 already feels like a good session of restorative yoga (last night, I fell asleep on it) but Bridge #2 makes me twitchy after five minutes. I can *really* feel it in my upper back.
I'll be sure to report back if these have any measurable effect on my backbending.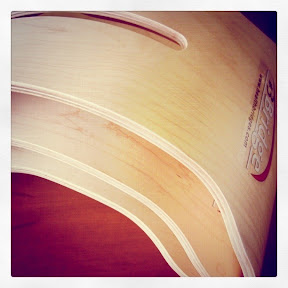 - Posted using BlogPress from my iPad