I'm moving into the final days of my 'Bikram Month'. All of the predictable things are happening: I can do toe-stand now. I can hold Floor Bow for a kazillion minutes without falling out (most of the time). I'm even occasionally bringing my forehead to shin in Standing Head to Knee Pose.
Other, non-predicted things are happening too: Dhanurasana has become a comfortable pose and I'm moving into it deeply. Instead of wondering if I can catch my heels in Ustrasana, I'm wondering if I can see my toes (no sightings yet...but I *know* they're down there!). And I'm starting to enjoy, yes ENJOY (it's not a typo!), the standing hangback. I'm pretty sure my flexibility in forwards bends has even increased.
But I'm also questioning nearly everything about my practice over the past year.
As much as it gave me a chance to heal an injury, this month also allowed me to delay thinking about where my practice is going in 2011. I've been able to bow out of all of speculation and drama, stop second-guessing and just practise *something*.
I missed Astanga, but I came to value the opportunity to step away from it, along with the culture and lifestyle surrounding the practice. I've been blogging less because I've been feeling pretty disconnected from the Cybershala (not the fault of any of you - you've all been, without exception, incredibly supportive).
Bikram's yoga forced me to do things a little bit differently. It shook up my routine and challenged some of my assumptions. I had to give up Vinyasa as a means of warming my body. And there was the HEAT! I had to adjust to constant teacher-chatter after years of a mostly-silent room. I had to move with someone else's instruction after years of a self-driven practice. I came to appreciate and even depend on those mirrors to self-adjust my alignment. I found a new use for the YogiToes towels that I bought and rejected last year (they're absolutely *super* in the hot room; I swear by them). I modified my sleeping schedule.
I think it's been good for me, all of it!
Christina
recently posted a quote from Richard Freeman which deeply resonated with me:
"Do not get lost in your own practice or school of practice… Do not isolate yourself in your micro-isolated community where everyone agrees with you."
(Interestingly, this led to a discussion in the comments about whether it's possible to 'safely resist change'. I would argue that it's not because no one can escape from the impermanence of life. Change is all around us and our only security is in embracing it).
I'm not sure what I expected from my month-long experiment with a different yoga style, but the end result has opened my eyes. Specifically, I'm wondering whether a traditional Astanga practice is healthy for my body. 2010 was my 'Year of the 6-day Week'. I practised every day in January and continued practising on a traditional 6-day schedule for the remainder of the year (until December 27th). I did Yin or light Hatha on the 7th day.
In 15 years of yoga practice, I've never had a serious injury. In 2010, I had *two* of them.
I believe I've been a bit lost in my Astanga practice, focused too much on progressing in the Primary Series. And it's not all yoga-related. In the space of a couple years, I went from being an intentional outsider to a part of a supportive community. Suddenly, after years of sitting by myself in the cafeteria I was welcomed at 'the cool kids' table'. I didn't want to let go of that, even when I was pretty sure my body was failing me and I needed to back off.
I think I hung on to the 'six day' thing longer than I should have because I really wanted to live in a microcosm where the rules were clear and everyone agrees. I'm also a creature of routine and I was loathe to invite change into my life. The daily round was difficult, but it was predictable. It offered a sense of consistency and safety.
But change is a given. Anything else is an illusion. There is no safety found in stagnation. And in the end, this is *my* yoga practice and *my* body. I'm a yoga teacher. I know better than anyone else what works, what is harmful and what I need.
I just need to clear my head and figure it out.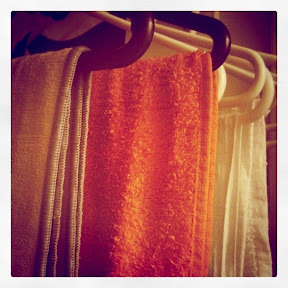 - Posted using BlogPress from my iPad