I think I've completely made the rounds of the various teachers at Hot Central. Today, I *finally* had a repeat: Macadamia. I really like her! She's newish, so her dialogue is so *sincere*. When she says "Lock your knee!", her tone is very earnest, as if she cares really deeply about my knee. She's also quite enthusiastic, which is contagious *pompomshake*.
I had a good practice today! I feel like I'm on a roll this week and improving rapidly. It's kind of the polar opposite of having a plateau in my practice and to be honest, it's a little bit disconcerting. There have been small shifts in nearly every single pose. I'm finally starting to understand the physical mechanics of these postures and even the more subtle aspects. Trippy!
Oh, and I hate to admit this, but the 'Lock the knees' directive really is helpful in the balancing poses. Yeah, I still have an Ashtangi-eyerolling-moment whenever a teacher says: "LockTheKneeLockTheKneeLockTheKneeLockThe KNEE!!!" But I have a feeling my Uttita Hasta Padangustasana is going to be loads better when I complete this 30-day experiment.
All of the backbends are getting easier, but Ustrasana was particularly fantastic today. And this had me *really* curious about where my Urdhva Dhanurasana is these days. I was out with a friend in the evening, but when I got home I unrolled my Manduka, did a few experimental backbends and shot a State-of-the-Backbend photo to gauge my progress.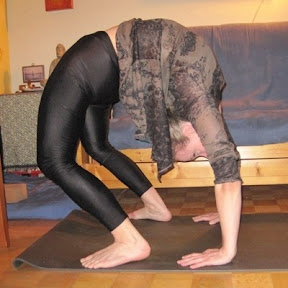 Holy smokes! My hands are mere inches from my heels! My hips and shoulders have opened a lot. My back is actually bending. This is incredible!
Not only that, but it appears that Bikram yoga has turned my hair a lighter shade. I seem to have picked up a slight British accent *and* I'm suddenly MUCH better looking (and my fashion sense has improved exponentially)!
This is powerful stuff! ;-D
- Posted using BlogPress from my iPad